International Conference: "The Factual Animal: Audiovisual Representations of Real Other-than-Human Animals"
Facultat de Filologia, Traducció I Comunicació (Universitat de València)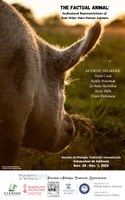 Details
The international conference "The Factual Animal: Audiovisual Representations of Real Other-than-Human Animals" is part of the CIGE/2021/100 research project on "Representations of Masculinities in Animal Advocacy Documentaries in English (2000-2021)", granted by the Conselleria d'Educació, Universitats i Ocupació, and is co-organized by the CULIVIAN research group ("Animals in Literary and Visual Cultures"), the Department of English and German, and the Department of French and Italian. The conference brings together academics and professionals to explore and discuss the ethic and aesthetic implications of processes of representation of nonhuman animals in postmodern (audio)visual contexts, with a particular interest in film (especially documentaries), photography, social networks and other types of media. Other forms of cultural representation in which nonhuman animals are "framed" for aesthetic purposes (zoos, museums and exhibitions, the tourism industry) will also be analyzed, as well as the means through which we manufacture the collective consent to their exploitation. Keynote speakers include Randy Malamud (Georgia State University; author of An Introduction to Animals and Visual Culture and Reading Zoos: Representations of Animals and Captivity), Brett Mills (Edge Hill University, author of Animals on Television), Claire Parkinson (Edge Hill University, author of Popular Media and Animals), Paula Casal (Universitat Pompeu Fabra; coauthor, with Peter Singer, of Los derechos de los simios), and world-renown photojournalist Jo-Anne McArthur (founder of We Animals Media, the first animal photojournalism agency). The conference is paired with the exhibition "Hidden: Animals in the Anthropocene", a collection of the work of We Animals Media photographers. The exhibition is open to all visitors, and is located in the Centre Cultural La Nau until December 10, 2023. "Hidden" is organized by CULIVIAN and sponsored by the Friends of Thoreau program at the Universidad de Alcalá.
Registration to attend the conference is not required, as sessions are open to everyone. If attendees do, however, wish to obtain a certificate of attendance, then they must register (see the conference program for more details).