II CULIVIAN Seminar: Nonhuman animals and gendered identities (2022)
Salón de Grados. Facultat de Filologia, Traducció i Comunicació. Universitat de València.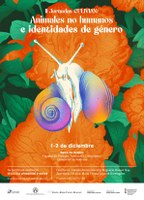 Details
Thanks to the Research Project "Representations of Masculinities in Animal Advocacy Documentaries in English (2000-2021)" (CIGE/2021/100), granted by the Conselleria d'Innovació, Universitats, Ciència i Societat Digital, CULIVIAN organizes the second edition of its yearly seminar. Talks will be held in the Salón de Grados of the Faculty of Philology, Translation and Communication at the University of Valencia on December 1-2 (and will also be streamed). The aim is to offer an interdisciplinary understanding of the multiple issues that join and are transversal to aesthetic, social and cultural debates on nonhuman animal and gendered identities, not only to emphasize the parallelisms between speciesism and sexism, but also to offer a discursive space that may allow us to trace the artistic, historical, legal and philosophical evolution of the cultural articulation of otherness.
All talks will be in Spanish. Attendance is free for both the online and the face-to-face format. Please contact Maria.T.Lajoinie@uv.es to sign up. Attendance certificates will be delivered after the seminar.